The expression of instrumental and symbolic violence on Facebook and Twitter
Keywords:
sociodigital networks, discourse, communication, intersubjectivity, discursive paradigms
Abstract
With a multidisciplinary approach, the discursive procedures by which instrumental (Fuentes & Alcaide, 2008) and symbolic violence (Bourdieu, 1990) are expressed are described in a sample constructed to carry out a pilot study within a broader investigation. In the selected corpus of Facebook and Twitter, users identify themselves as members of two intersubjective groups (Bucholtz and Hall, 2005): "chairos", sympathizers of the left, and "derechairos" of conservative political ideas. The methodology is descriptive supported by quantifications.
Downloads
Download data is not yet available.
References
Bourdieu, P. (1990). Intelectuales, política y poder. Buenos Aires: Eudeba UBA
Bravo, D. (2010). Pragmática socio-cultural. La configuración de la imagen social como premisa socio-cultural para la interpretación de actividades verbales y no verbales de imagen. En Orletti, F. y Marianotti, L. (Eds.), (Des)cortesía en español. Espacios teóricos y metodológicos para su estudio (pp. 19-47). Roma: Università degli Studi Roma Tre.
Bucholtz, M. y Hall, K. (2005). Identity and Interaction: A Sociocultural Linguistic Approach. Discourse Studies, 7(4-5), pp. 585-614. DOI: https://doi.org/10.1177/1461445605054407
Byung Chul-Han (2014). En el enjambre. Barcelona. Herder.
Byung Chul-Han (2016). Topología de la violencia. Barcelona: Herder.
Byung Chul-Han (2018). Hiperculturalidad. Cultura y globalización. Barcelona: Herder.
Foucault, M. (1980). Microfisica del poder. Madrid: Las Ediciones de La Piqueta.
Foucault, M. (1987). El orden del discurso. Barcelona: Tusquets.
Fuentes, C. y Alcaide, E. (2008). (Des)cortesía, agresividad y violencia verbal en la sociedad actual. Sevilla: Universidad Internacional de Andalucía.
Goffman, E. (1997). La presentación de la persona en la vida cotidiana. Buenos Aires: Amorrortu Editores.
Google Trend (2019). Consulta las tendencias del 2018–México. Recuperado de: https://trends.google.es/trends/yis/2018/MX/.
Haidar, J. (2018). Las falacias de la posverdad: desde la complejidad y la transdisciplinariedad. Oxímora. Revista internacional de ética y política, 13, pp. 1-16.
Haidar, J. y Rodriguez Alfano, L. (1996). Funcionamiento del poder y de la ideología en las prácticas discursivas. Dimensión Antropológica, 7, pp. 73-111.
Hall, S. (1996). ¿Quién necesita identidad? Cuestiones de identidad Cultural, pp. 13-39.
Husserl, E. (1986). Meditaciones cartesianas. México: FCE.
Lipovetsky, G. (09 de noviembre del 2016a). Espiral–Conversación con Gilles Lipovetsky [video]. Recuperado de: https://www.youtube.com/watch?v=ZvHyeH6ogNk&t=3s.
Lipovetsky, G. (2016b). La era del vacío. Madrid: Anagrama Océano.
Mancera Rueda, A. y Pano Alamán, A. (2013). Nuevas dinámicas discursivas en la comunicación política en Twitter. Círculo de Lingüística Aplicada a la Comunicación, 56, pp. 53-80. DOI: https://doi.org/10.5209/rev_CLAC.2013.v56.43867
Pano Alamán, A. (2016). Narrativa colectiva y polifonía en Twitter: del relato colectivo al tuiteo en directo. En Carpi, E., García Jiménez, M. R. y Liverani, E. (Eds.), Le forme del narrare: nel tempo e tra i generi (Vol. 1, pp. 179-197). Trento: Pubblicazioni del Dipartimento di Studi Letterari, Linguistici e Filologici, Università di Trento.
Salgado, E. (2018). Del #SimulacroCDMX al #MéxicoNosNecesita: 19S en Twitter. Revista Mexicana de Sociología, 80, pp. 21-147.
Salgado, E. (2017). Los tuiteros frente al poder: estrategias de la confrontación discursiva. En Salgado, E. y Andrade, L. (Eds.), Estudios del discurso en México. Nuevas prácticas, nuevos enfoques (pp. 441- 467). Mérida: UNAM-Centro Peninsular en Humanidades y Ciencias Sociales.
Sloterdijk, P. (2003). Crítica de la razón cínica. Madrid: Siruela.
Trendinalia (2019). Trending topics. Recuperado el 5 de febrero del 2019 de https://www.trendinalia.com/twitter-trending-topics/globales/globales-190926.html
Van Dijk, T. (2006). Ideología. Una aproximación multidisciplinaria. Barcelona: Gedisa.
Winocur, R. y Sánchez J. (2016). Redes sociodigitales en México. Ciudad de México: FCE.
Yus, F. (2014). El discurso de las identidades en línea: El caso de Facebook. Discurso y Sociedad, 8(3), pp. 398-426.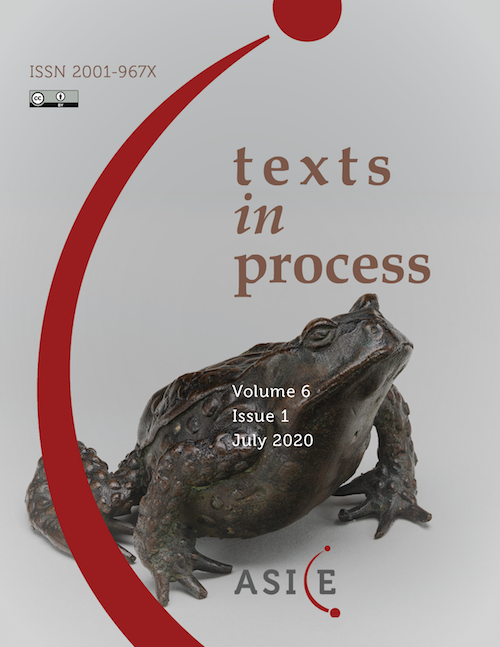 How to Cite
Barrera Márquez, M., & Rodríguez Alfano, L. (2020). The expression of instrumental and symbolic violence on Facebook and Twitter. Texts in Process, 6(1), 160-171. https://doi.org/10.17710/tep.2020.6.1.9barrerarodriguez
Copyright (c) 2020 Marco Fabio Barrera Márquez, Lidia Rodríguez Alfano
This work is licensed under a Creative Commons Attribution 4.0 International License.
Texts in Process (TEP) is a non-commercial open-access scholarly journal governed by a Creative Commons Recognition 4.0 International license. It follows a full and unrestricted open access, without charges or fees for shipping, reviewing, processing and publishing articles. Users can read, download without registering, distribute, print or link the complete texts of numbers and articles, without the permission of the editors or authors. There is also no charge to publish (APCs), being applicable to the entire editorial process. The authors retain their intellectual rights at all times.
ASICE-EDICE Programme has always believed that non-commercial, open, unlimited and unrestricted access to specialized academic publications is a vehicle for academic freedom and scientific rigor. It adheres and shares the Declaration of Mexico and DORA to guarantee the protection of academic and scientific production in Open Access.