Rare diseases in the media
Report April-June 2014, Observatory for Rare Diseases FEDER (OBSER)
Josep Solves Almela

Universidad Cardenal Herrera

Antonio Miguel Bañón Hernández

Universidad de Almería
Keywords:
rare diseases, media, Spain, 2014
Abstract
This report presents the analysis of how Spanish mass media dealt with the so-called rare deseases during the months of April, May and June of 2014. The report has the same general objective of the first one for the previous three months: understand how rare diseases are presented in the Spanish media and, correspondingly, how that media representation evolves. In this report, the data of the first trimester is compared to the second one.
Downloads
Download data is not yet available.
References
Bañón, A.M. y Fornieles, J. (2011). Communication and Rare Diseases: Contextualisation. En Bañón, A. M., Fornieles, J., Solves, J. A. y Rius, I. (coords.). Communication Strategies and Challenges for Rare Diseases: Medical Research as a Referent. CIBERER.
Bañón, A. M. y Urán, I. (2011). La representación discursiva de las enfermedades raras y de los afectados: los nombres y las cifras. En Bañón, A. M., Fornieles, J., Solves, J. A. y Rius, I. (coords.). Desafíos y estrategias comunicativas de las enfermedades raras: la investigación médica como referente (pp. 151-164). CIBERER.
Bañón, A. M. y Requena, S. (2014). La representación de las enfermedades poco frecuentes en el discurso periodístico español. Propuestas para el análisis. Sociocultural Pragmatics, 2(2), pp. 1-42.
Catalano, T. y Waugh, L.R. (2013). The ideologies behind newspaper crime reports of Latinos and Wall Street/CEOs: A critical analysis of metonymy in text and image. Discourse Studies, 10(4), pp. 406-426. http://dx.doi.org/10.1080/17405904.2013.813774
Cruz, O. y Requena, S. (2013). El Día de las Enfermedades Raras en las noticias televisivas. Análisis crítico de su representación audiovisual. Discurso & Sociedad, 7(1), pp. 200-223.
Delgado, R. (1993). On telling stories in school: A reply to Farber and Sherry. Vanderbilt Law Review, 46, pp. 665-676.
Erdmans, M. P. (1999). Portraits of emigration: Sour mild and honey in the promised land. Sociological Inquiry, 69(3), pp. 337-363. http://dx.doi.org/10.3102/0091732x022001195
Espino, M. M. (2008). Master narratives and counter-narratives: an analysis of Mexican
American life stories of oppression and resistance along journeys to the doctorate. Tesis doctoral. University of Arizona. Recuperado de:
http://arizona.openrepository.com/arizona/bitstream/10150/195733/1/azu_etd_2711_sip1_m.pdf (15-05-2015).
Kress, G. R. y van Leeuwen, T. (2006). Reading Images: The Grammar of Graphic Design (2nd ed.). London: Routledge.
Tate IV, W. F. (1997). Critical race theory and education: History, theory, and implications. Review of Research in Education, 23, pp. 191-243. http://dx.doi.org/10.3102/0091732x022001195
Yosso, T. J. (2006). Critical race counterstories along the Chicana/Chicano educational pipeline. New York: Routledge.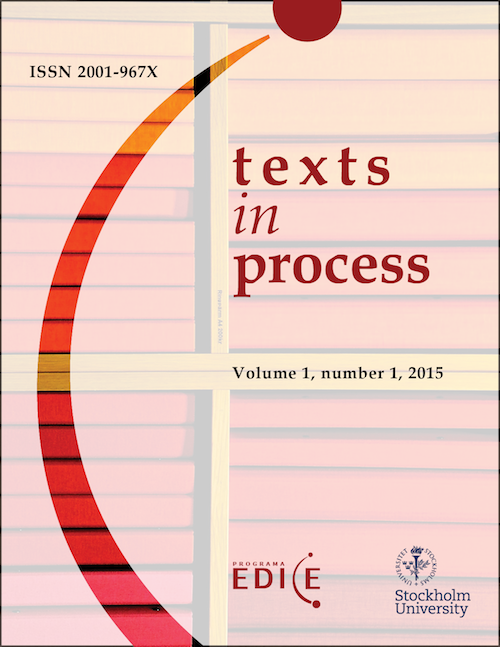 How to Cite
Solves Almela, J., & Bañón Hernández, A. (2015). Rare diseases in the media. Texts in Process, 1(1), 90-236. https://doi.org/10.17710/tep.2015.1.1.5sol
Copyright (c) 2015 Josep Solves Almela, Antonio Miguel Bañón Hernández
This work is licensed under a Creative Commons Attribution 4.0 International License.
Texts in Process (TEP) is a non-commercial open-access scholarly journal governed by a Creative Commons Recognition 4.0 International license. It follows a full and unrestricted open access, without charges or fees for shipping, reviewing, processing and publishing articles. Users can read, download without registering, distribute, print or link the complete texts of numbers and articles, without the permission of the editors or authors. There is also no charge to publish (APCs), being applicable to the entire editorial process. The authors retain their intellectual rights at all times.
ASICE-EDICE Programme has always believed that non-commercial, open, unlimited and unrestricted access to specialized academic publications is a vehicle for academic freedom and scientific rigor. It adheres and shares the Declaration of Mexico and DORA to guarantee the protection of academic and scientific production in Open Access.